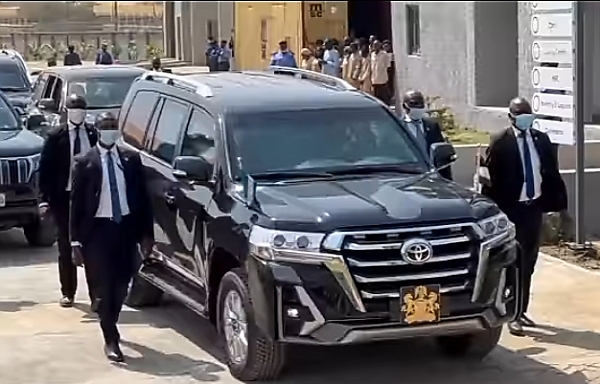 Great deals from Amazon !
Nigerians react to President Bola Tinubu's 120-car convoy:
The President Federal Republic of Nigeria, Bola Ahmed Tinubu GCFR returned to Lagos Nigeria. Rousing welcome given to the President!

Great deals from Amazon !

Omo na the convoy dey sweet me pass and I know e dey pepper some people for body now…. pic.twitter.com/cb1gsGCebo

— 🦅 ℙ𝕒𝕤𝕥𝕠𝕣 𝕆𝕜𝕖𝕫𝕚𝕖 𝕁 𝔸𝕥𝕒ñ𝕚 🦅 (@StFreakingKezy) June 27, 2023
Inibehe Effiong, @InibeheEffiong:
"Mr. Bola Tinubu's convoy in Lagos is another reminder that the political class is not ready to make the sacrifices which they expect from citizens. A nation that has a devastating debt burden shouldn't be run this way. Those defending the monstrous convoy don't wish Nigeria well.
"The fact that other officials were in the convoy does not justify such monstrosity. The fact that two governors and the NSA were reportedly part of the convoy does not justify the number of vehicles in the video. It is absurd. Tinubu could have insisted on reducing the vehicles.
"You remove fuel subsidy to save cost, but you're wasting limited resources on frivolity. No governor should have more than 5 vehicles in a convoy. We can keep making silly excuses for their wastefulness. We will continue to suffer. Countries are not built by wishful thinking."
Inibehe Effiong added:
"The fact that other officials were in the convoy does not justify such monstrosity. The fact that two governors and the NSA were reportedly part of the convoy does not justify the number of vehicles in the video. It is absurd. Tinubu could have insisted on reducing the vehicles."
"YireNyong, @NyongYire:
"Will he also pay the FG 1k vehicle registration on each of those vehicles? I doubt it! Tinubu and others like him have fed fat on our common wealth and contributed little or nothing to this country."
Comrade Deji Adeyanju, @adeyanjudeji:
"Why does the president of the POVERTY CAPITAL OF THE WORLD need to ride in a 120 car convoy and same people removed subsidy asking the poor to make sacrifices."
NEFERTITI, @firstladyship:
"This is Tinubu's convoy. This is the lavish convoy of the tax man who imposed N520/liter of petrol, 40% electricity tariff, 7.5 VAT on diesel & N1000 Levy for Proof of Vehicle ownership on you. U pay N768/$1 for PTA & BTA so that BAT can enjoy his old age.
It's a shame to see some charlatans celebrating a long convoy driven by a mandate thief who doesn't care about the suffering of the masses. Tinubu has not reduced the cost of governance, even within Aso Rock.
He has not announced a reduction in the number of presidential fleet or the number of people he will be traveling with.
He has not even said, henceforth, in order to identify with the pains of Nigerians occasioned by the current economic situation, he and all his appointees will be taking only half salaries or in the very least, will forgo their allowances all through their duration; But you are hailing.
Well, you can keep celebrating charlatanry while it lasts. Obi is COMING!
Nelo Olufunmilayo (New Nigeria), @NelOsuji:
"Hungry Nigerians really celebrating Tinubu's convoy in this subsidy economy where they are advising you to stop driving your car and join the bus for the good of the country! Surely must be Juju!"
"Tinubu convoy is too much and at the same time, is NOT for his security and safety, considering the polarised and hostile environment he found himself. Enemies and aliens are living within."
Harun Elbinawi, @HarunaNAbdullah:
"President Tinubu's 120 car convoy …. When @officialABAT returned from Europe yesterday, more than 120 car convoy escorted him to his Lagos residence. This is gross irresponsibility and wastage of Tax Payers money. This is antithesis of good governance.
"In a period when majority of Nigerians can not afford to fill the tanks of their cars due to the high price of fuel due to subsidy removal by the Tinubu regime, such display of primitive arrogance using Taxpayers money stand condemned.
"Tinubu should stop behaving like an arrogant village rich man using Nigerian Tax Payers money as the fuel. When Tinubu called for sacrifice after the removal of the fuel subsidy, was he insulting and mocking Nigerians?
"Inference: Governance is serious issue of serving the people, and not wasting Tax Payers money. Nigeria is presently the extreme poverty capital of the world. Majority of families are finding it difficult to feed one meal per day."
Efe Martins, @EfeMartins72:
"kindly make sense out of this please. No insults please, how do you justify this long convoy of luxury cars just to escort one person na? Asking Nigerians to make sacrifices should start with Govt. cutting down a bit of these excesses and lavish Lifestyle."
Tinubu Hater, @Aminaruk:
"Tinubu convoy is bigger than UK, US, Canada, and all European Leaders joined together. Citizens must learn to sacrifice for the greater good. While leaders must continue to waste the scares resources."
UG, @UgwunnaEjikem:
"Tinubu fanboys are celebrating 'convoy' lmao truly, Nigeria is a simulation."
Chijiоke, Ph.D., Nuclear Engineering(Affidavit), @Ekwulu:
"The people that are being pauperised daily and buying fuel at N550 per liter are busy defending Tinubu's long convoy in a country that is currently using 95% of their revenues to service debts.
Most Nigerians will support wasteful leadership as far as the leader is from their [region]."
Wachor Zakks-Manuel, @WachorZ:
"Brace up, people! This Tinubu regime promises to be a reckless and irresponsible one. Look at the convoy of the man who says we should make sacrifices. If this is not irresponsibility, I don't know what is."
Ayemojubar, @ayemojubar:
"They've started to compare Tinubu's convoy with other world leaders, just to justify that eyesore."
President Eniola Daniel, @UnlimitedEniola:
"BRT Buses were chartered for praise singers and touts yesterday to welcome Bola Tinubu at the Airport. Interesting, Hungry Nigerians were on the road celebrating his over 100 convoy while the country is in bad shape- Just give them food and they will sing."
Olóyè T.D Esq, @BolanleCole:
"Bola Tinubu in 120 Vehicles convoy. Yet they removed Subsidy from the reach of we the masses. Our leaders no rate us at all."
Uzodinma oloye, @oloye01:
"Meanwhile some foolish agbadorians r celebrating tinubu's convoy, he is reducing ur purchasing power & increasing his salary & allowance… mugus!"
Peter Obi Stan supporter, @omoelerinjare:
"Mr Peter Obi's Narration on long 'CONVOY' of luxury CARS.
Peter Obi: "When I was the governor of Anambra State I found out that we have 'FUEL DUMP' which is costing us millions of Naira every month. I asked them what do we need this fuel dump for, they said it is for our 'CONVOY' I asked them to line up the convoy of cars, to tell me who and who is in each car. At the end of the day, I closed the 'FUEL DUMP', reduced my 'CONVOY' of cars to 5 in which no one must buy fuel unless I am in the car. Why are you going with that 'HUGE' amount of security, if you are governing the people well, why would they want to kill you, I move alone in Onitsha, they are my people, they are the ones protecting me because they know I govern the state based on their interest."
Great deals from Amazon !